TGEEA 2023
International Forum

The forum will include nine fascinating speeches from Hong Kong, Japan, South Korea, Thailand, Philippines and Taiwan, as well as a special unveiling of TGEEA's newly-published report on the Implementation of CSE in Taiwanese Elementary Schools. Join this event to learn more about the state of CSE across Asia.
* CSE refers to Comprehensive Sexuality Education.

Hashimoto Kyoko
(Japan)
Topic: The Relationship Between Gender Collaboration and Sexuality Education: A Case Study of the Tama Area in Tokyo, Japan.

Nattanicha Lekkla
(Thailand)
Topic: Conciliation Between Gender and Sexuality Diversity Rights and Thai Nationalism in the Change of Sexuality Education Textbooks Version 2019

Yao, Huei-Yao
(Taiwan)
Topic: The History of Sexuality Education in Taiwan and Its Debatess

Hang, Yi-Chen
(Taiwan)
Topic: How to Implement Comprehensive Sexuality Education in Taiwanese Elementary Schools

You, Mei-Hui
(Taiwan)
Topic: The Development of Curriculum in Comprehensive Sexuality Education for High School Students in Taiwan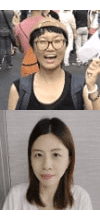 Lau, Shi-Lin
(Taiwan) &

Lai, Yun-Hua

(Taiwan)

Topic: The Learning Status of Junior High School Students in Sexuality Education after the Implementation of the Twelve-Year Curriculum - A Case Study of Taichung and Miaoli

Daisuke Watanabe
(Japan)
Topic: Issues of Comprehensive Sexuality Education and Gender/Sexual Diversity Education in Japan

Tari, Youngjung Na
(South Korea)
Topic: Toward Pleasure-Centered Sex Education for the Vulnerable: How to Work Against Stigmatization and Criminalization

Gio Potes
(Philippines)
Topic: SOGIE-fied Education and Development: Experiences and Impacts of SOGIESC Mainstreaming in the University of the Philippines Diliman

Diana Kwok
(Hong Kong)
Topic: Training Educators in Contesting Transgender Prejudice: Use of Expressive Arts Strategies
CSE in Asia: TGEEA 2023 International Forum
Time: October 27, 2023 (Friday), 9:00-17:00
Location: Howard Civil Service International House (No. 30, Section 3, Xinsheng South Road, Da'an District, Taipei City)
*Simultaneous interpretation in Chinese and English will be provided at this forum.