Taiwan Gender Equity Education Association (TGEEA), founded in 2002 by a group of school teachers and social activists, aspires to achieve gender justice and diversity in Taiwan through Education.
As a non-government organization, TGEEA has dedicated itself in the following endeavors: gender justice reach out programs for teachers, students and parents at various levels of education, development of instructional materials and effective strategies for gender equity education, and keep a vigilant watch over the official implementation of the Gender Equity Education Act. In addition, TGEEA has actively participated in international networking with similar NGOs abroad. Since 2010, TGEEA has been a principal contributor in writing a comprehensive CEDAW shadow report evaluating how Taiwanese government has accomplished to push for an inclusive gender justice in Taiwan.
In recent years, Taiwan has witnessed a growing opposition to gender inclusive education, particularly from the religious right groups as evidenced globally. Such opposition has created a homophobic and hateful environment in schools and in society. Believing in the power of Education, TGEEA hopes to strive with every possible way to make a more just and friendly Taiwan for all.
On April 20, 2000, a male junior high school student who had been the victim of long-term bullying on campus due to his femininity excused himself from music class to go to the bathroom alone since he feared harassment by his classmates when using the bathroom after class. He was later found lying in a pool of blood and later pronounced dead at the hospital.
Foundation of TGEEA (2002)
After the establishment of TGEEA in 2002, it provided follow-up assistance for the Yeh, Yung-chih Incident Shortly after, the draft of the " Equity Education Act for Both Sexes", which was still under deliberation, was officially renamed to "Gender Equity Education Act".
In 2004, TGEEA jointly launched the "Alliance for NGO Promotion of the Gender Equity Education Act" in collaboration with several related organizations. These determined actions and efforts greatly aided the passing of the "Gender Equity Education Act" in three readings in the same year.
TGEEA provided continued support to the parents of Yeh, Yung-chih in the litigation procedures associated with this case starting in 2002 until the final verdict in June 2006. The association and its partners still maintain an excellent relationship with the parents and family members of Yeh, Yung-chih.
TGEEA is the first gender equity organization in Taiwan which is composed of professional educators. Over 70% of its members are grassroots educators. The association aims to link partners all over Taiwan who genuinely care about gender equity education to promote joint vocal advocacy of educational policies. The association currently has around 200 official members. General meetings are convened on an annual basis to adopt major resolutions on annual work programs, reports, budgets and final accounts. The general direction and budget for each work program are determined by the 20 directors and supervisors and jointly executed by the work office colleagues.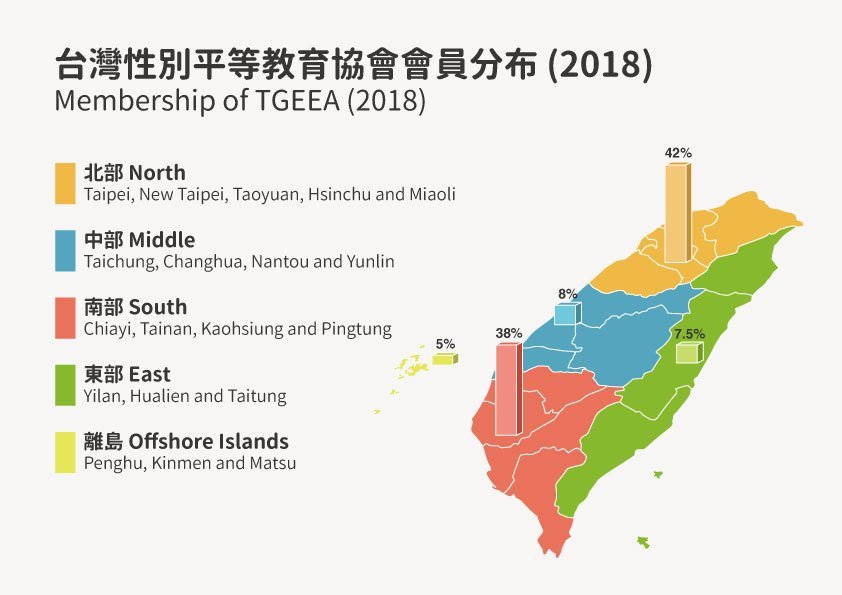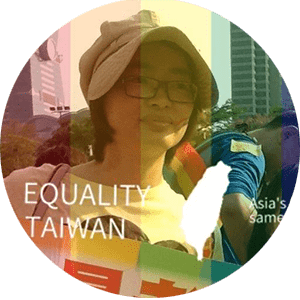 Some words from the Chairperson
I came to know Taiwan Gender Equity Education Association (TGEEA) in 2003. At that time, TGEEA had just been founded. With very limited human power, TGEEA had been trying to do a lot of things with vigor and passion. I was quite moved, so I decided to apply for membership. My memory is still fresh of how my heart was beating when my eyes were opened to gender issues. Ever since then TGEEA has been nourishing me and helping me grow.
At its 18th anniversary, TGEEA is still firmly committed to its visions and causes. The organizational structure has expanded over the years. In addition to the ongoing promotion of gender equity education through the development of teaching materials, lecture tours on campus, policy watching and advocacy, TGEEA also participated in the operation of Gender Equity Education Coalition, doing workshops in cooperation with enterprises, and the strengthening of international links.
The fruit of our current success is the efforts of all the past chairpersons, board directors, and staff members. To take over the job as chairperson is a huge responsibility for me.
TGEEA is an NGO that plays a key role in the promotion of gender equity education in Taiwan. The association is deeply devoted to raising gender equity awareness and the educational professionalism of teachers to trigger a silent resolution within the system. It aims to serve as a staunch advocate for teachers amidst controversies. Even though the watershed referendum in 2018 caused a public backlash, it still created an opportunity for dialogue. "Social education" is also a key mission for TGEEA because gender issues and educational opportunities are everywhere.
Let's keep going and work hand in hand on pursuing a just and equal society through education.
— Hsieh Mei-chuan, the 10th chairperson of TGEEA